Posts Tagged 'book club'
Tuesday, January 22nd, 2013
In case you couldn't tell from yesterday, we had book club over the weekend.  Now, we use the term book club very loosely because essentially this is how we roll:
Typically, it's a big potluck where we all stuff our faces and drink a lot of wine.  And spend a ridiculous amount together. Saturday was a day of firsts for our little book club though. We had a record of (I think) 16 people attend AND we actually spend a fair amount of time discussing the book.
Another first was how long my friends stayed.  The official start to this month's book club meeting was 1:30, which meant my friends started showing up around 12:45.  And stayed until….
What do you do at my apartment for 8 hours? A lot actually.
We spent some time contemplating how Sierra can look beautiful in every single picture despite being candid or posed.
We also held some competitions:
And spent some time pretending to like one another.
We took the time to admire Lindsay's creativity with her whole toenail falling off and having to wear shoes issue:
And just when you thought the night was over, things got all weird and some supportive foam rolling happened.
Our book club is weird.
If you want to read along with us, our book for next month is Unbroken by Laura Hillenbrand.  Do it and then come eat, drink, stare at Sierra, guess how long Loop Looks can hold her pee, and foam roll with us. Oh and talk about the book…maybe.
That's all the nonsense I have for now.
Have you ever belonged to a book club that actually discusses the book (or have you only been in ones like ours) ??
Monday, January 21st, 2013
I've decided that our book club is sorta demented.  This is the second book (by request) about a serial killer that we've read….and loved. Let that sink in.
Here's the Spark Notes from Amazon:
"Portland detective Archie Sheridan spent years tracking Gretchen Lowell, a beautiful and brutal serial killer. In the end, she was the one who caught him…and tortured him…and then let him go. Why did Gretchen spare Archie's life and then turn herself in? This is the question that keeps him up all night—and the reason why he has visited Gretchen in prison every week since.
Meanwhile, another series of murders is tearing up the Portland streets. Archie seems to be getting closer to solving this high-profile case…until he finds himself in a fatal collision course with the killer—one that inevitably leads him back to his former captor. Gretchen may be the only one who can help do justice. The only thing she can't do, this time, is save Archie's life."
If it sounds creepy it's because it is.  I flew through this book because I wanted so badly to know what happened in the next chapter.  Does Archie die?  Does he get back with his family? Is Gretchen responsible for the murders despite her being in prison?  Will her and Archie hook up?  As you can see, this book kept me hanging.
I've never really read books like this, I typically tend to stay away from murder type stories because they can be too realistic to me.  This one however I couldn't put down and I was literally covered in sweat the last 40 pages of the book from being so nervous and anxious (another reason why I don't read these).
It's interesting to think back on it because I can honestly say, I didn't like one single character in the book.  I also didn't like  the subject (serial killer) yet I loved this book.  I loved this book so much that when I found out it was a series (mistake) I called all the bookstores within a 2 mile radius to my apartment looking for it.  I had to start the next one that evening. And I did.  And I regret it.
If you want to read a thriller, a sit on the edge of your seat type book, definitely read this.   But stop there.  Whatever you do, do not make the mistake of continuing on with the series.  The second book was just so….not good and it almost ruined the first one for me.  Too much information, too much romance (hello Gretchen escapes prison and her and Archie spend a week in a love nest in the mountains together doing love type things..) and nothing like the first book.  But go read Heartsick, like now.
That's all the nonsense I have for now!
Series you've been disappointed in?
Monday, October 29th, 2012
So I'm attempting to do more book reviews on RSF since I do nothing with my life other than read books.  Anyway, we had our monthly blogger book club on Saturday and this month's pick was Dark Places by Gillian Flynn.
A few of us had read Gone Girl and were really interested in reading another book by Gillian Flynn so the choice was pretty easy.
This book is about a woman whose family is murdered when she is younger (her mother and two sisters) and her brother is in prison doing time for the murder.  The story alternates each chapter as the woman now and her brother or mother on the day of the murder.  The story revolves around Libby (main woman) trying to figure out what actually happened the night of the murder: did her brother really commit the murders or did someone else?  As the book progresses, you learn more about that night and about the what really is UP with that brother of hers.
I really loved Gone Girl but this book was pretty darn good. Gillian is great at completely engrossing you in these twisted stories and throwing in a COMPLETE twist ending.  In other words, don't plan on doing anything after you start this book until you finish it.  If you like creepy, weird and twisted books, this is a definite read but if you're squeamish I would say skip it.
As you can see, book club as always was a success.  Food + friends + books = fun. We however, did not have enough food.
And people were really excited that I was there…
We really should use the term 'book club' loosely though considering we talk about the book for about 13 minutes each and every time. I spend most of my time drinking, my friends spend their's glaring at me and Sierra spends her's in her own little world…
Speaking of Sierra, she sent me pictures from book club and made sure to throw in a picture of just her dish. She would. It was good though so I'm OK with posting it.
If anyone is interested in reading along with us, this is our book for November :
That's all the nonsense I have for now!
Have you read Dark Places? Gone Girl? Thoughts?
Thursday, January 19th, 2012
So right now I am reading 3 books at the same time, while also listening to a book on tape.  Unless that counts as reading 4 books?  We will count it as 4 that way I look even more studious.  Normally I read two books at the same time, but I have gotten completely out of control this month and here's why.
Book number 1:  Sybil Exposed by Debbie Nathan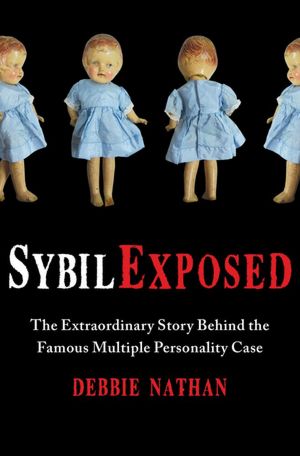 I was fascinated by the book Sybil so JT got me this book that I just started reading.  It fits nicely in my purse so this is my "commuter" book.
Book number 2:  Possible Side Effects by Augsten Burroughs
PartyDog got me this book for Christmas because I love reading short stories before bed.  It helps me unwind to read a few pages of something completely different each night.  Normally I read David Sedaris, but I've read almost all his books so this is my current "bed-time" book.
Book number 3: The Book of Joe by Jonathan Trooper
It's no surprise I'm sort of in love with Jonathan Trooper's books so I bought this one to listen to while I run.  This is currently my "running" book.  Now if only Antonio Banderas was the narrator…
Book number 4: 1Q84 by Haruki Murakami
I have been dying to get my hands on this book and when I finally did, I realized it was 1000 pages long.  Don't expect a book review on this book for a very long time.  This is currently my "I am such an intellectual" book.  Doesn't it portray me to  be the intellectual I am?  Especially when I'm watching this in the background while I'm reading:
That's all the nonsense I have for now!